Land Claiming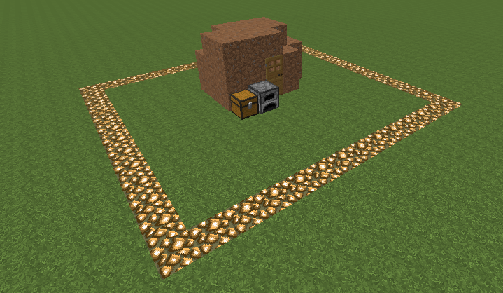 Getting Started
Right Click two points with a Feather, then type the command /claim confirm. Land claims are 2-dimentional, and include all blocks along the vertical Y-axis. Land may only be claimed in the Overworld and Nether worlds. The Wilderness cannot be claimed. Each player is limited to the following claim areas (2-dimensional):
Rank
Claim Limit
Maximum Total Area
-
4
16,000 blocks
(~126x126)
PLUS
5
24,000 blocks
(~155x155)
VIP
7
32,000 blocks
(~179x179)
Players may be added to your claim using /claim add [name] command. Granular settings for each claim can be accessed by using /claim settings while standing in your claim.
On Claimed Land:
Creepers don't damage blocks

TNT doesn't damage blocks unless ignited by the land owner

Peaceful animals cannot be damaged by explosions

Players cannot build or destroy blocks unless given permission

Players cannot hurt animals unless given permission

Nametagged peaceful animals cannot take lethal damage

Villagers and Pigs will not be converted with Witches and Pigmen in a thunderstorm
---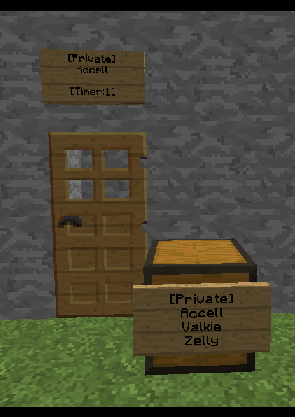 Locking Containers and Doors
Right Clicking on them with a Sign. To place a sign without locking, hold Sneak while placing the sign.
Editing Lock Signs
Right Click the sign and use the command /lock [line#] [text] Adding other players' names to the sign allows multiple people to access the locked object. Special codes are allowed as lines on a lock sign, and have different functions. The square brackets are required.
| | |
| --- | --- |
| [Everyone] | Allows anyone to open the chest, bypassing claimed-land restrictions. |
| [More Users] | If three spaces aren't enough to put all you want on a sign, use another sign headed with this to continue the list. |
| [Timer:#] | Automatically closes a door after # seconds. |